Crime Stoppers alert:: Need info on Scott Stewart
May 25, 2010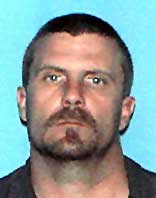 Crime Stoppers is asking for help locating Scott Allen Stewart, pictured at left. He is wanted on warrants for First Degree Burglary and Possession of a Controlled Substance.
Stewart is a 37-year-old white male, 6 feet 1 inch tall weighing 190 pounds with brown hair and blue eyes. He has no known scars or tattoos. His previous addresses include the Springfield area; however investigators believe he may be in the Joplin area. He was last seen driving a Green '93 Ford pickup. He may be accompanied by an adult white female and a teen-aged white female. The teenager has been reported as missing.
Do NOT try to apprehend Stewart, as he may be violent. If you have information about this wanted person, or any person involved in any other felony crime, you are asked to call Crime Stoppers at (417) 869-TIPZ (8479). You may also submit your information securely on-line here. You do not have to give your name and no attempt is made to find out who you are.
Crime Stoppers takes information about drugs dealers, wanted felons, and all other felony crimes. We pay rewards of up to $1,000.00 in cash for the information that leads to the arrest and the filing of charges against people involved in felony crimes.