Crime Stoppers alert::: Grabber on loose
August 04, 2010
CRIME STOPPERS is requesting assistance in identifying a suspect involved in a robbery.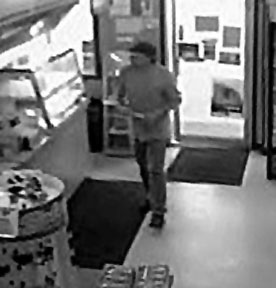 The Pittsburg, KS Police Department is investigating a robbery that occurred at approximately 6:44 p.m. on July 8, 2010, at the Mini-Mart located at 302 West 4th St. The robbery occurred when a male subject entered the convenient store and was paying for an item. The store clerk reported that when the cash register ws opened to make change for the purchase, the male subject grabbed it [to keep it from closing] and reached in grabbing money.
The suspect was described as a white male, between the ages of 40 and 50 with an unshaven face. The suspect was wearing a blue or gray cut-off tee shirt, blue jeans, and a ball cap. After committing the robbery, the suspect left the location in an older model white four-door box-style vehicle.
Anyone with information about this suspect, or any other felony crime, is urged to call Crime Stoppers at (417) 782-TIPZ (8479). You may also submit your information securely on-line here. You do not have to give your name and no attempt is made to find out who you are. Crime Stoppers takes information about drugs dealers, wanted felons, and all other felony crimes. We pay rewards of up to $1,000.00 in cash for the information that leads to the arrest and the filing of charges against people involved in felony crimes.