Crime Stoppers:::Deberry/Busby wanted
October 15, 2011
Crime Stoppers is asking for help in locating Kimberly A. Deberry. Deberry is wanted for 2nd degree domestic assault and is known to use the alias "Kimberly Busby."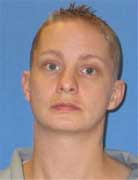 Deberry is a 32 year-old female, 5' 6" weighing 125 pounds with strawberry blonde hair and blue eyes.
Do NOT try to apprehend Deberry. If you know her whereabouts, call Crime Stoppers at (417)782-TIPZ (8479) or go on-line at www.heartlandtipz.com. Tipsters do not have to give their names and could earn a reward.