Crime Stoppers:::Davison, Burkhart wanted
February 23, 2012
Crime Stoppers is asking for help in locating Ruth E. Burkhart and Dustin Davison. Burkhart is wanted for forgery and possession of a controlled substance and Davison for theft. Both are wanted by the Dist. #9 Probation and Parole Office -Jasper/Barton/Dade Counties.

Burkhart is a 33 year-old white female, 5 feet 5 inches tall, weighing 170 pounds, with brown hair and blue eyes. She uses the alias Ruth E. Logsdon.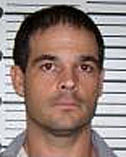 Davison is a 33 year-old white male, 6 feet 3 inches tall, weighing 205 pounds, with brown hair and brown eyes.

Do NOT try to apprehend these wanted persons. If you know their whereabouts, call Crime Stoppers at (417)782-TIPZ (8479) or go on-line at www.heartlandtipz.com. Tipsters do not have to give their names and could earn a reward.