David Wayne Slatton is captured
April 30, 2012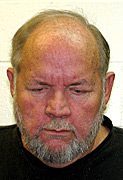 On April 24, 2012, David Wayne Slatton, pictured, was arrested by the Garland County Sheriff's Department after Heartland Crime Stoppers, Inc. received a tip that Slatton was living in Hot Springs, AR.
Slatton was wanted for warrants in Jasper and Newton Counties for felony theft of services (scamming tornado victims) and felony bad checks/no account.
Slatton makes the seventeenth person captured since Heartland Crime Stoppers, Inc. started on May 1, 2010.