Haskins and Smith wanted in Joplin
June 12, 2012
CRIME STOPPERS is asking for help in locating Allison R. Haskins and William K. Smith. Both are absconders wanted by the District #9 Probation and Parole Office in Joplin.

Haskins is a 39 year-old white female, 5 feet 2 inches tall weighing 115 pounds with brown hair and blue eyes and is known to use the aliases Allison Huff and Allison Kelbeno.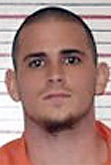 Smith is a 23 year-old white male, 5 feet 11 inches tall weighing 200 pounds with black hair and brown eyes and is known to use the alias Korry Smith.

Do NOT try to apprehend these wanted persons. If you know their whereabouts, call CRIME STOPPERS at (417)782-TIPZ (8479) or go on-line at www.heartlandtipz.com. Tipsters do not have to give their names and could earn a reward.