Daniel Hartman is suspected of first degree murder
July 09, 2012
UPDATE: Daniel Hartman was taken into custody on June 10, 2012, in Tulsa, awaiting extradition to Jasper County.
Crime Stoppers is asking for help in locating Daniel Hartman. Hartman is a suspect in the homicide of Jacob A. Wages. A warrant for first degree murder, armed criminal action, and first degree burglary has been issued through the Jasper County prosecutor's office, with a bond set at $400,000 surety, plus additional $50,000 cash.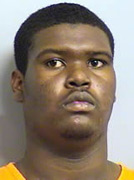 Hartman is a 17 year-old black male. People with information about him, or any other felony crime, are asked to call Crime Stoppers at (417) 782-TIPZ (8479). You may also submit your information securely on-line at www.heartlandtipz.com. You do not have to give your names and no attempt is made to find out who you are.