Jerome D. Corey is wanted
June 01, 2014
UPDATE: Crime Stoppers featured fugitive Jerome Corey on 5/28/14. He was arrested on 6/5/14 and is no longer wanted. The arrest was not related to a Crime Stoppers tip.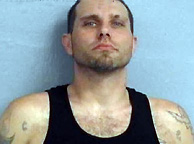 Crime Stoppers are looking for Jerome D. Corey, 34, pictured. He is being sought for a parole violation--felony warrant #1046635 for 2nd degree assault and a Springfield misdemeanor warrant #130636897, failure to display annual registration tabs.
Corey is a white male, 6'0" tall, weighing 180 lbs. with brown hair and blue eyes.
Do not try to apprehend the subject. He has violent tendencies and is known to have resisted arrest. If you know his whereabouts contact (417) 869-TIP, submit your tip online here or text "417SPD" plus your message to 274637 (CRIMES).