Joplin recycling conference open to public
May 11, 2004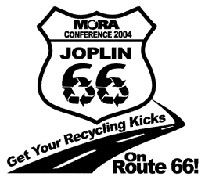 Members of the public will be permitted to attend the annual Missouri Recycling Association Conference together with its members and the Missouri Waste Control Coalition. Hosted by the City of Joplin, Region M and N Solid Waste Management Districts and the Associated Recyclers of the Midwest, the conference will be held from June 7-10 at the Holiday Inn, Joplin.
An admission of $5.00 will allow the public for the first time in the association's history to attend an exhibit hall, also set up at the Holiday Inn. The fee for the full conference is $240.
Mary Anne Phillips, Joplin's Recycling Coordinator stated, "This is a first-time opportunity for the public to attend a recycling conference in Joplin. Business personnel, government officials, environmental educators, maintenance supervisors, and individuals committed to recycling are encouraged to attend."

The Ecolonomic Sustainability Workshop portion of the conference will be held from 8:30 a.m. to 3:30 p.m. on Monday, June 7 with a cost of $45 per person. Lunch will be included. This is a unique opportunity to learn about sustainability issues and hear directly from the co-founder of the Institute of Ecolonomics, actor and Joplin native, Dennis Weaver.
Rob Wood, organizer of the event said, "Sustainability is relatively new to many businesses and industries. By understanding the concept, various government officials, industry personnel and others can develop better policies and procedures that make sense for business and the environment."
Four tour packages include visits to recycling processing facilities, drop-off centers, industrial and manufacturing recycling with cutting edge technology, explosives recycling (EBV Explosives), compost screening demonstration, tire derived fuel (Empire Power Plant), tire derived football field (Sprinturf Recycled Tires), and more. The tours will be on June 8 and 9.
Sixteen technical sessions will be held on June 9 and 10. The sessions include media relations, electronic waste, grant writing, office recycling and security issues, green buildings and recycling of deconstructed buildings, success stories, government relations, teaching recycling in schools, product stewardship, waste tires, construction and demolition debris, panel discussions for novice and seasoned recyclers, compost, disaster debris management, and more!
Windy Overman of Federal International, Inc. stated, "This conference touches on all aspects of recycling such as placing cardboard collection dumpsters at a local fast food restaurant, teaching environmental issues in our schools, and even turning waste into energy."
For more information call Region M Solid Waste Management District at 782-3515, or their toll free number (800) 788-3515. Details also may be obtained by calling the City of Joplin Recycling Department at (417) 624-0820 Ext. 501, or visit this website.