Celebrate the life of Nelson Mandela in song
February 15, 2014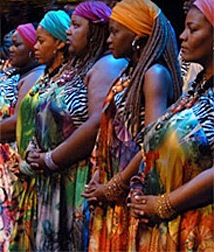 As part of their 37-city North American tour, South Africa's Soweto Gospel Choir will perform "A Musical Celebration of its Rainbow Nation and the Life of Nelson Mandela" at the Walton Arts Center's Baum Walker Hall in Fayetteville, Arkansas. The event, a 10th anniversary tour, will take place on March 6, 2014. Curtain is 7:30 p.m.
Founded in November 2002, the Soweto Gospel Choir first saw international success within one month of inception when its first single "Voices of Heaven" reached No. 1 on Billboard's World Music Chart. In October 2006, the choir performed as invited guests for their patron Archbishop Desmond Tutu's 75th Birthday Celebration in front of an audience that included former President Nelson Mandela, Zanele Mbeki, Tokyo Sexwale, Samuel L. Jackson, Alfre Woodard and Carlos Santana. The choir has made television appearances on Conan, Leno, and the Today Show, and has garnered honors including two American Gospel Music Awards in 2003, and the Grammy Award for "Best Traditional World Music Album" two years in a row—in 2006 for Blessed, and in 2007 for African Spirit.
The group released their fifth album Divine Decade (Decca) on in January 2014, as a celebration of the ensemble's past 10 years of artistic collaboration and accolades. Opening with an address from the choir's patron, Archbishop Desmond Tutu, Divine Decade features collaborations with a wide range of guest artists that exhibit the choir's breadth of repertoire, including: U2, Robert Plant, The Soil, Joepraize, Zahara, Elvis Blue, Yvonne Chaka Chaka, Ladysmith Black Mambazo, Solly Mahlangu, Corlea Botha, Eric Wainaina, Johnny Clegg, Paul Ruske, and HHP. Amongst the featured tracks include the choir's popular hits such as Sedilaka, Sarah McLachlan's Angel, The Jackson 5's I'll Be There, and the Fish Out of Water remix of Put On Your Boots, their collaboration with U2.
To purchase tickets go here. For directions to the center go here.