Blunt names government reform advisors
March 02, 2005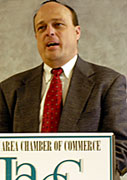 JEFFERSON CITY - Rob O'Brian, President of the Joplin Area Chamber of Commerce is one of 18 members named to the newly created Government Reform Commission by Gov. Matt Blunt. The commission's members will initiate a full review of state government to examine opportunities to restructure, reduce and eliminate state government functions.
Blunt has charged the commission with looking at each state department in terms of its structure, efficiency and focused goals or duties. The effort of the unpaid members of the commission is to devise ways to make state government more effective, fiscally responsible and service oriented. The commission's recommendations will be submitted no later than one year from their first meeting, which will occur on March 8.
The commission is being chaired by Steven Bradford of Cape Girardeau and Warren Erdman of Kansas City. The last time a major review of Missouri government took place was in 1974.
"I am proud of the team of people we have assembled from across the state to improve state government and make it more efficient for the taxpayers of Missouri," Blunt said. "Each of these individuals bring a variety of experiences and expertise to the table and I look forward to working with them in the months ahead to develop a state government worthy of the citizens of this great state."
In addition to O'Brian, the commission members are: John Fox Arnold of St. Louis, Bradford, Cynthia Brinkley of St. Louis, Cathy Dean of Kansas City, Ron Dittemore of St. Joseph, Erdman, Jerry Hunter of St. Louis, Lt. Gov. Peter Kinder, Charles Kruse of Dexter, Charles McClain of Columbia, Dick Moore of Jefferson City, Kathleen Osborn of St. Louis, Sharon Rohrbach of St. Louis, CiCi Rojas of Kansas City, Gary Rust of Cape Girardeau, Paul Steele of Chillicothe, Ray Wagner of Clayton, Joyce Wood of Bonne Terre and Dalton Wright of Lebanon.