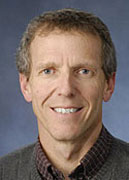 Karl Brooks, associate professor of history and environmental studies at the University of Kansas, has been appointed regional administrator of the Environmental Protection Agency's Region 7, according to an announced by EPA Administrator Lisa P. Jackson. The appointment made by President Barak Obama puts Brooks in charge of the leadership team serving Iowa, Kansas, Missouri, Nebraska and nine tribal nations.
Brooks' responsibilities will include promoting state and local environmental protection efforts and serving as a liaison to state and local government officials. As a regional administrator, he will be tasked with ensuring EPA's efforts to address the environmental crises of today are rooted in these fundamental values: science-based policies and programs, adherence to the rule of law and transparency.
"I look forward to working closely with Karl on the range of urgent environmental issues we face, in region 7 and across the nation," Jackson said. "At this moment of great challenge and even greater opportunity, I'm thrilled that Karl will be part of our leadership team at EPA. He will certainly plan an instrumental role in our agency's mission to protect our health and the environment."
A Boise, Idaho, native, Brooks returned to Boise in 1983, where he practiced law until 1993 and served three terms in the Idaho Senate, 1986-1992. Before returning to graduate school, Brooks also worked for the Idaho Conservation League, Idaho's largest citizens' environmental group. He has taught history and environmental studies at the University of Kansas for the past decade.
Brooks has published numerous articles in the fields of environmental history and environmental law. He is currently working on A Rising Wind: The Emergence of American Environmental Law, 1945-1980, under contract (Lawrence: Univ. Press of Kansas).
In 2000 Brooks was awarded a Ph.D. from the University of Kansas. He also has a Juris Doctor from Harvard, a master's degree in international relations from the London School of Economics, and a B.A. from Yale.