Become bird savvy
April 21, 2006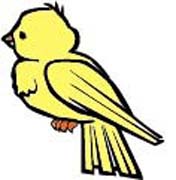 Have you ever wondered what that little yellow bird was at your backyard feeder? Or, what bird is it that sings at your bedroom window on a crisp spring morning? Have you wanted the chance to spend a few hours with someone who knows how to identify birds?
The 2006 Birdathon, a fund-raiser sponsored by the the Wildcat Glades Conservation & Audubon Center, will take place beginning at 7 a.m. on Friday, May 19, 2006, beginning with a light breakfast at Wildcat Park, Joplin. Bird-watching will take place at the Silver Creek and Wildcat chert glades, Shoal Creek Trail, and other park areas and be followed by lunch back at Wildcat Park.
To participate in this year's event, individuals and/or companies are invited to form a team of three that will be joined by a naturalist from the area who will help identify and catalog the birds. The team then will be assigned a local area in which to find as many different bird species as they can in four hours. Since it is currently spring bird migration, it is estimated there could be as many as 80-100 different species seen by the teams.
To participate and to receive a Birdathon T-shirt, each team member is asked to collect donations totaling at least $50 before the day of the event. The entire amount of the gift will go directly to the Audubon Center's development.
Prizes will be awarded for the most money raised, the most bird species seen by the team, and the most unique bird seen. The team that identifies the most species will have their team name etched on a stone designating them as 2006 Birdathon winners. The stone permanently will be placed in the wildlife viewing area of the nature center.
The deadline to sign up is April 28. Space is limited. For further information about the Birdathon or to become a team member contact the Audubon Center at (417) 623-2211.