Bargen named first Missouri Poet Laureate
January 08, 2008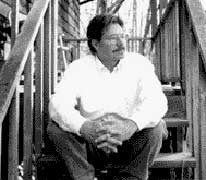 (Photo compliments of www.walterbargen.com)
JEFFERSON CITY - Gov. Matt Blunt today appointed Walter Bargen, pictured at left, as the state's first official Missouri Poet Laureate. Through executive order Blunt created the position to help promote the arts in Missouri and to encourage Missourians to learn more about the many cultural opportunities available within it.
Bargen, 59 of Ashland, has published nine books and two chapbooks of poems over the last 28 years. Among his work is The Feast: Prose Poem Sequences, which won the 2005 William Rockhill Nelson Award for best poetry book by a Missouri writer. His work has appeared in more than 100 magazine publications, including American Literary Review, International Quarterly, Missouri Review, and River Styx. Mr. Bargen has been recognized for his literary achievements as a recipient of a National Endowment for the Arts poetry fellowship in 1991 and as winner of the Quarter After Eight Prose Prize in 1996, the Hanks Prize in 1996, and the Chester H. Jones Foundation poetry prize in 1997. Mr. Bargen holds a bachelor's degree in philosophy and a master's degree in English education from the University of Missouri-Columbia.
During a term of two years, the Missouri Poet Laureate will make a minimum of six appearances per year at public libraries and schools across the state. Bargen also will compose an original poem in honor of Missouri and will perform the poem at an event commemorating the new position.
Blunt announced plans to name the first official Missouri Poet Laureate in October. To be considered for the position, nominees had to be a current resident of the state. Missourians interested in becoming or nominating the state's first poet laureate were asked to submit writing samples and background information to the governor's office. The response was overwhelming and Gov. Blunt worked with the Missouri Center for the Book in Missouri's first selection.