Debating abortion and other Republican agendas
February 22, 2014

Legislative News
Senator Ron Richard (R-MO 32)
Majority Floor Leader
The Missouri Senate took on two high profile measures this week relating to gun rights and the waiting period to receive an abortion. Both of these topics involve highly personal stances and can evoke strong emotions. I was proud to see senators debate both proposals with the utmost respect for their fellow colleagues' opinions. The upper chamber remains a place marked by civil discourse and fair and honest discussion of the issues facing our state.
Over the last year and a half, the federal government has attempted to infringe on the Second Amendment rights of everyday Americans. Congress has blocked these efforts. In response, the president has offered numerous executive orders dealing with gun rights. Meanwhile, states across the country are creating incredible burdens on those who wish to purchase or own a firearm.
It now falls to the states to protect individuals' liberties. In Missouri, we've worked hard to create legislation that would protect the gun rights of Missourians, regardless of whatever unconstitutional measures the federal government adopts.
On Monday, the Senate perfected Senate Joint Resolution 36. If approved by voters, the legislation would enshrine in our state constitution the right of law-abiding Missourians to keep and bear arms. The bill guarantees the Second Amendment rights of the citizens of our state.
We also debated Senate Bill 519, which would extend the current waiting period for an abortion to 72 hours. Currently, a woman seeking an abortion must wait 24 hours before obtaining the procedure. The time limit was put in place as a way to ensure that this life-altering decision is not done in haste and is thoroughly thought through.
However, an abortion is an irreversible and sometimes traumatic medical procedure. Many people believe 24 hours is not nearly enough time to make a choice of that magnitude. During the committee hearing on the bill, one witness testified about the immense regret she felt after receiving an abortion, and how an extended waiting period would have given her the time to make the right choice.
Abortions are often the result of "crisis pregnancies," which can be highly stressful and emotional. It can lead to decisions a person might not otherwise make. Giving women considering an abortion an extra 48 hours to think about their choice could prevent many of these procedures from happening.
The bill in no way prevents a woman from having an abortion. It only gives them a chance to truly weigh the consequences of what is an invasive procedure from which there is no going back. The legislation will likely be brought up again this session.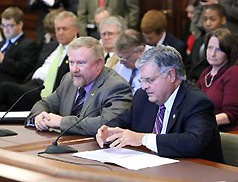 Sen. Ron Richard, right, testifies with Rep. Charlie Davis on Senate Bill 718 during the Senate Small Business, Insurance and Industry Committee on February 18, 2014.
In other news, the Senate Small Business, Insurance and Industry Committee conducted a hearing on Senate Bill 718, which I'm sponsoring. The legislation would allow volunteer labor on public works projects. Prevailing wage laws currently prevent this. My bill would let upstanding citizens, who want to help out their community, donate their time and skills to public works projects, such as repairing our roads and maintaining our school builds. I was proud to testify on the importance of this bill with local Rep. Charlie Davis and thank him for his support.