Little star, I wonder where you really are
January 25, 2008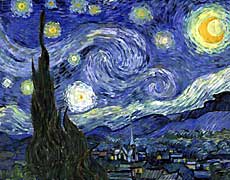 "Starry Night (De sterrennacht), an oil painting by Dutch artist Vincent van Gogh, is owned by the Museum of Modern Art in New York City. Some have compared the work to an astronomical photograph of a star taken by the Hubble Space Telescope in 2004. Today many people are concerned that light pollution is destroying the night sky and its appreciation.
A world-wide event called the GLOBE at Night that brings people together to call attention to light pollution will take place from February 25 until March 8, 2008. The object is to go outside in the early evening, observe the constellation Orion, then compare the visible stars to limiting magnitude charts.
About 8,500 observations were made in March 2007 by people from 60 countries. The data they reported--and the obvious conclusion that areas of higher population density have brighter skies and more light pollution--has helped scientists studying light pollution, population patterns and energy usage.
Information about how to participate in this program may be found here.
The Missouri Night Sky Protection Act
An act requiring the Department of Natural Resources to monitor the night sky brightness over Missouri's state protected areas has been proposed by Representatives Walt Bivins (R-St. Louis) and Jason Holsman (D-Kansas City). HB 1727, the Missouri Night Sky Protection Act, seeks to eliminate light pollution that hides the stars at night, robbing the state of its natural beauty.
In his recent State of the State address, Governor Matt Blunt cited "our moral obligation to protect the environment" and "improve energy efficiency." Bad lighting is estimated to consume about 732 million kilowatt-hours annually, or 1% of Missouri's total electrical production.
"It's getting harder and harder to point out constellations to my daughter when I take my family to Table Rock Lake," Holsman said. "This bill will preserve the night sky for our children, while improving our energy efficiency."
Acting like a dimmer switch for the night sky, this bill will protect state parks that allow camping, Missouri wilderness areas, Squaw Creek National Wildlife Refuge and Ozark National Scenic Riverways. The Department of Natural Resources would work to educate the public about light pollution while helping people identify good lighting options that save money and do not pollute the skies. DNR will have a long-range goal to bring the night sky brightness down to 10% over natural brightness by 2055.
Missouri would be the thirtieth state to pass or sponsor legislation limiting light pollution. If passed, Missouri's law will be the first to establish quantitative limits on light emissions.
Famous Missourians inspired by what may be considered Missouri's once pristine sky include Edwin Hubble and Robert Heinlein. Hubble whose name is connected to theories about galaxies and to the Hubble Space Telescope was born in Marshfield. Heinlein was born in Butler but spent his childhood in Kansas City. He was posthumously awarded the Distinguished Public service Medal by the National Aeronautics and Space Administration for advocating and promoting the exploration of space.
For more information about the Missouri Night Sky Protection Act, go here.