Environmentally-friendly company is launched
June 07, 2008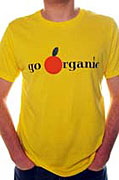 University of Missouri-Columbia college students Jack Short and Daniel Lyons wanted to fill in what was missing in the American Green Movement after spending a semester abroad.
A purveyor of environmentally friendly fashion-forward apparel, accessories and wares, their company seeks to provide eco-conscious and socially aware consumers with expressive environmentally-friendly products.
Its eco-friendly clothing is made from 100% organic cotton. A few items for women are made from sustainable bamboo. Fair-trade certified workers create the products in facilities that run solely on wind and solar power. The result is a shirt that is almost completely carbon neutral, with the only associated emissions due to transport. This is a cutting-edge concept in the U.S., and has been met with great enthusiasm from customers across the country.
In addition to their commitment to sustainability, Factory Green has made a commitment to the United Nations Water for Life Campaign. A portion of all profits will be donated to the organization, which works to provide clean water to under-served populations around the globe.
Factory Green is not just another "hippie green company!"
See for yourself here (www.FactoryGreen.com)
C L A S S I F I E D A D