For the love of bacon
January 23, 2010
How much do you love bacon?
Did you know that Bakon Vodka, the first commercially available bacon-flavored vodka, was launched in 2009 locally by Black Rock Spirits of Seattle, WA and sold out within three weeks due to international interest?
---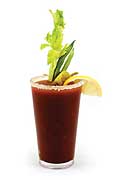 Bakon Mary
1 oz to 1 1/2 oz. Bakon Vodka in a highball glass filled with ice
Add tomato juice
Add a dash of celery salt, black pepper and Tabasco, 2-4 dashes of Worcestershire sauce and 1/8 tsp. horseradish (pure, never creamed)
Top off with a dash of lemon or lime juice
---
Fans from the Midwest, enjoying a cold Bloody Mary over a backyard BBQ, wanted to know where to get the brand...for use as a marinade or even taken with an oyster shooter.
Co-founder Stefan Schachtell says their Bakon Vodka begins with quality Idaho potatoes column-distilled using a single heating process that doesn't "bruise" the alcohol like the multiple heating cycles needed to make a typical pot-still vodka. The delicate balance of flavors leaves drinkers with the smoky taste of a crisp slice of peppered bacon.
Bakon Vodka is distributed in Missouri by Major Brands of St. Louis.
A D V E R T I S E M E N T