Opera and motherhood are Youngs' forte
July 30, 2009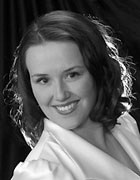 When Jennifer Youngs, pictured, soprano and mother of four, sang as Clorinda in La Cenerentola at the Kennedy Center in Washington D.C., she was five months pregnant.
"My son Noah kicked every time the tenor sang," said Youngs with a smile. "Even to this day, he stomps away every time he hears a tenor."
Combining motherhood and opera comes naturally for Youngs. In June she traveled to Chicago with her husband Stephen; Noah and younger siblings Genevieve, Olivia, and Rafe. They visited the Lincoln Park Zoo the very same day she auditioned at the city's world-renowned Lyric Opera.
Youngs repertoire is varied. She has had the honor of performing with jazz great Dave Brubeck as he celebrated the anniversary of his alma mater, the University of the Pacific. At California's Stockton Opera, she took on the role of Casilda in The Gondoliers and at the Arizona Opera was a member of the chorus in their production of Pagliacci.
As a soloist, Youngs also has been featured around the country in performances of Handelís Brockes Passion, Haydnís Creation, Bachís Cantata #110,Handelís Messiah, and was humbled when she sang the soprano solo for Mozart's Requiem at the first anniversary of the 9-11 attacks.
One of her favorite arias is Regnava nel silenzio from Donezettiís Lucia di Lammermoor. "The composer must of had me in mind," Youngs remarked.
Youngs will perform beginning at 2:30 p.m. on Sunday, Aug. 9, 2009 in the Corley Auditorium at Missouri Southern State University, Joplin. She will be part of the Heartland Opera's "In a Time of Enchantment," a program of opera and musical theatre selections that also features local artists Dyanne Lile, Kayleen Seidl, Loria Harrington, Lendi Stirewalt, Erin Phipps, Lucas Tarrant, Samuel Green and Christopher Layton. General admission tickets sold at the door are $25 each/$10 each for students.