Carol Parker honored
October 24, 2003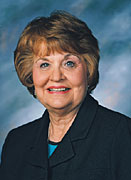 JOPLIN(SNS) - KSN Community Affairs Director, Carol Parker, is the recipient of the annual Pioneer Broadcaster Award. The award was presented yesterday at Missouri Southern State University. The award honors a person who has made a significant contribution to the development of local broadcasting.
Born and raised in Joplin, Carol has been the hostess of "The Carol Parker Show" and Community Affairs Director of KSN-TV since 1973. Her public affairs program features interesting guests from the community, cooking, and location shoots.
Carol has interviewed a wide variety of celebrities over the years, including Bob Hope, Dennis Weaver, Willard Scott, Don Johnson, Today Show hosts, NBC reporter Lisa Meyers and countless others. Her interviews have taken her all over the Four States as well as Branson and New York City.
Under contract with Twentieth Century Fox in Hollywood, Carol appeared as a dancer in the movie, There's No Business Like Show Business . She attended Joplin Junior College and the University of Arkansas.
She has published several cookbooks and received numerous awards from a wide variety of community groups, including the "Woman of Achievement Award for Contribution in Communication."
Carol is married to Jack Parker. They have three children: Dr. Douglas Parker, Stephen Parker, and Dianne Parker Schramm and seven grandchildren.
Previous Pioneer Broadcaster Award recipients include Ruth Kolpin (1997), Austin Harrison (1998), Don Gross (1999), William Neal (2000), Richard Massa (2001), and Lou Martin (2002, awarded posthumously).
The award is an annual presentation made by the Department of Communications at Missouri Southern, as part of Media Showcase Day which honors the work of area school children.