Beloved actor/environmentalist Dennis Weaver dies
February 27, 2006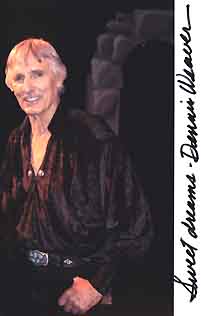 DENNIS WEAVER (1924-2006)
We mourn a really great man
JOPLIN (SNS) – Actor, environmentalist, alumnus and longtime supporter of Missouri Southern State University, Dennis Weaver, has died. Mr. Weaver died of complications from cancer Friday, Feb. 24, 2006 at his home in Ridgway, CO. He was 81.
He is survived by his wife of 60 years, Gerry Stowell Weaver, sons Rick, Rob and Rusty, daughters-in-law Judith and Madison, and grandchildren Jennifer, Travis and Jess.
Born June 4, 1924 in Joplin, he attended MSSU's predecessor, Joplin Junior College in 1943, as did his wife. He interrupted his education to join the Naval Air Corps but later graduated from the University of Oklahoma.
Weaver served as a World War II Navy pilot and in 1948, tried out for the US Olympic team to compete in the decathlon. After he failed to make the team, his college friend Lonny Chapman, also a Joplin Junior College alumni, convinced him to go to New York City to break into acting. His first role on Broadway came as understudy to Chapman as Turk Fisher in Come Back, Little Sheba. He eventually took over the role from Chapman in the national touring company. In 1952 he signed a contract with Universal Studios.
On television he played the affable deputy Chester Goode in the TV classic western Gunsmoke and the New Mexico deputy solving New York crime in McCloud. He starred in 9 television series before winning an Emmy in 1959 for his role in Gunsmoke. He earned two more Emmy nominations for Gentle Ben and McCloud.
In 1966, Mr. Weaver starred in Gentle Ben, about a family that adopts a bear as a pet. The show aired for two seasons. He then played Sam McCloud, which Weaver called "the most satisfying role of my career." The McCloud series ran 1970-1977. His wild-west tactics irritated the big city policemen, but he always solved the case.
He appeared in several movies, including Touch of Evil, Ten Wanted Men, Gentle Giant, Seven Angry Men, Dragnet, Way ... Way Out and The Bridges at Toko-Ri.
He also performed in the 1971 TV classic, Duel, directed by the young Steven Spielberg. From 1973 to 1975, he was president of the Screen Actors Guild.
His star on the "Walk of Fame" is at 6822 Hollywood Boulevard.
"We express our sorrow for the passing of a close friend of the University," said Dr. Julio S. León, president of Missouri Southern State University. "Our sympathies go out to his wife, Gerry, and the other members of his family."
Dennis and Gerry established the Institute of Ecolonomics in 1993. Ecolonomics is a word Dennis coined to illustrate the necessary synergy between a healthy ecology and a vibrant economy in order to create a sustainable future.
In 1997, officials from Missouri Southern participated with Mr. Weaver in the "Ecolonomics in Education Summit" in Tennessee. That meeting resulted in the formation of a working group composed of faculty from Missouri Southern's business and economics, biology, and social sciences who developed a 13-credit certificate program in ecolonomics and sustainability. In August 2005 the headquarters of the Institute of Ecolonomics was brought to Southern's campus.
"I think he was an exceptional individual. He really believed in what he advocated for so many years about ecolonomics and sustainability," said Dr. John Messick, Dean of the School of Arts & Sciences at MSSU, where the Institute is housed.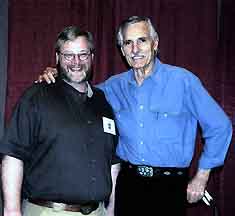 Rob Wood, the Institute of Ecolonomics' executive director (at left) is seen with institute founder Dennis Weaver during the first Ecolonomic Sustainability Workshop held at Missouri Southern. It kicked off the 2004 Missouri Recycling Association Conference in June of that year
Rob Wood, executive director of the Institute of Ecolonomics, said he was "extremely saddened" by the death of Mr. Weaver. "He was a pioneer in many ways, but especially in the field of economic and environmental sustainability. It was his passion. We will be proud to carry on his work here at Missouri Southern."
Dennis' autobiography is titled All the World's a Stage. In that, he concludes, "Tomorrow's children await our answer. Tomorrow's world awaits our creation. Join me today, for the sake of tomorrow. Thank you for caring. Love, Dennis."
The family announced that those wishing to support Dennis Weaver's vision for a sustainable future may contribute to The Institute of Ecolonomics, Missouri Southern State University, 3950 E. Newman Rd., Joplin, MO 64801-1595.