Jackie O's estate benefits from local artist
August 04, 2006
It was around two oclock in the morning. Missouri Southern State University alumnus T. Crowe (Terry) Semler was having problems with the thesis he was writing for his master's degree at the University of Arkansas.
Earlier in the day he had heard one student say to another "If you google yourself and don't find anything, you're really nothing."

TERRY SEMLER
He thought about the comment for a moment. Then he went back to work on the thesis and typed on, but, after awhile, he knew he needed a break. Normally, he would have worked on one of his many paintings or other art projects to clear his head. But this time, for the first time in his life, he went online and typed his own name in the Google Internet search engine.
"I hit enter," he says," and immediately up pops an article saying that Sotheby's has had a sale of the estate of Jacqueline Kennedy Onassis and it has brought in over $5 million dollars."
He scrolled down and came across this paragraph from the New York Times:
"Mary Lou Boone of San Marino, Calif., was in New York visiting with her daughter and felt impelled to have something from the historic era to pass along. She was happy with a softly abstract 1994 acrylic painting on canvas by T. Crowe Semler, J-Dream/ For Jacqueline, at $4,800 (est. $200/300)."
---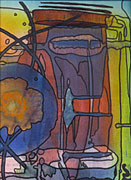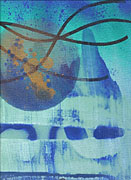 Terry Semler's vast portfolio includes abstracts that have fascinating layers. "The majority of my work is participatory," he explained. "I give the viewer options on how to view it."
While Semler's paintings up until now have been gifts, the artist of Middle Eastern descent hopes to attract a few commissions especially from the EMAAR Group of Dubai. They have "lots of new buildings to fill with art," he said.
Subsequent to graduating from Crowder College, Semler received a bachelor's degree from Missouri Southern and a master's degree from the University of Arkansas. He majored in sociology/criminal justice and minored in Middle Eastern studies. Currently single, he is dividing his time between New York City and Kuwait City.
---
Semler's artwork comes from his early childhood in Neosho, Missouri. His babysitter was his grandmother. It was a simpler time. His family left the doors unlocked all day and all night. Even so, his grandmother knew she needed to keep the adventurous boy occupied.
"She used art to keep me under control as a child," he remembers. "She would put the materials out there and taught me how to entertain myself through painting, drawing and other things."
"Art," he says, "is my passion."
What is Semler's favorite genre?
"Basically we refer to it postmodern neo-expressionism, " he says. "I like high aesthetic, non-objective art where the title may give the viewer some idea or lead them slightly into a thought process. The majority of my work is participatory. I give the viewer options on how to view it."
Semler often works on multiple canvases at a time. "Sometimes I have sister projects going at the same time because of the similarity of color palates," he comments.
Often, over the years, he has retreated to his studio to work on his paintings simply to clear his head and gain perspective on the world. It was during one such period that the picture sold at the Sothebys gallery came to life.
"This painting was soft with lots of light yellows, watermelony reds and pastels, with hints of light blue and black abstract art," Semler recalls. "I was working on the painting and heard on the radio that Jacqueline Kennedy Onassis was extremely ill. I decided the painting would be called J-Dream for Jacqueline".
"The news media gave her address for get well cards. I mailed the painting with a note that read 'I hope this brings you a smile'."
"I got back a computer-generated thank you note," he says. "That didn't surprise me. At that time, Im sure she was getting things from all over the world."
That acknowledgment was the last he heard of the painting until the sale at the Sothebys Gallery, over ten years later.
Mary Lou Boone, the woman who bought J-Dream for Jacqueline, is a longtime patron of the arts.. She and her husband, George Boone, helped create a state-of-the-art orthodontic clinic at the University of Southern California.