Dr. Julio S. León announces his retirement
August 17, 2007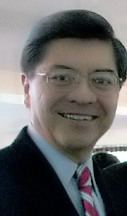 JOPLIN - After serving 25 years as only the third President of Missouri Southern State University, Dr. Julio S. León, pictured, announced his retirement today (Friday, Aug. 17, 2007).
"I have had a rewarding and fulfilling opportunity to lead this great institution for two and a half decades," León stated. "Together,we have written many chapters that I have confidence will encourage and inspire generations to come to seek the benefits of a higher educationright here. But, it is time for me and the University to write new chapters," León stated.
"All good things must come to an end," he stated, adding his ever-positive twist, "but that doesn't mean each of us can't begin more good things." León did not elaborate on his plans for the future but he did state he would remain engaged in higher education.
León is one of the longest-serving university presidents in the nation. The Chronicle of Higher Education has reported that only about 100 presidents of the nation's 1,478 four year colleges have served more than 15 years in office. Fewer than 40 had tenures of 20 years or longer.
During his 38 years on the MSSU campus, the university has been transformed physically and academically. He came to Missouri Southern in 1969 as assistant professor of business administration. He earned a doctorate in business administration from the University of Arkansas in 1973 and in 1976 he was promoted to dean of the school of business administration.
In July 1982, he became interim president and in December of the same year, the Board of Regents appointed him President of Missouri Southern State College after a national search.
During his 25 years as president, León has served under six different Missouri governors. He guided Missouri Southern through three national economic recessions and he is proud of the fact that through the ensuing state funding cutbacks, Missouri Southern never laid off a single employee.
Under his leadership and through numerous political struggles, Missouri Southern gained University status in 2003 and has since added cooperative master's degrees. In May 2006, León presided over the hooding of the University's first master's graduates.
A native of Chile where he was one of his country's top distance runners, León eventually arrived on the Missouri Southern campus in 1969 after earning a master's of business administration degree in 1968 at the University of North Texas. At that time the institution featured eight major facilities; today there are more than 30 on the University's 373-acre campus. The square footage added over the two and a half decades is equal to about 10 football fields. In 1969, about 350 degrees were awarded; today nearly 800 students earn diplomas each year.
Enrollment was 3,120 for the fall 1969 term; today that number is almost double, approaching 6,000 students from across the region and around the globe.
He has been passionate about educating students with personal attention and a global perspective. He consistently articulates the necessity that students in the region experience international aspects of education. Hundreds of students have since had the opportunity to look beyond their own confines to see the world in person as a result of his national award-winning programs. During his tenure Missouri Southern received a 2001 Hesburgh Certificate of Excellence for faculty development to enhance undergraduate teaching and learning.
León first proposed the concept of international education as a distinctive part of the college's mission in 1990. With legislative approval and funding, that approach has changed the academic landscape of Missouri Southern, with new courses and programs giving students a global perspective and deeper understanding of their interconnected and interdependent societies. Missouri Southern was one of eight institutions selected to participate in the "Promising Practices" program sponsored by the American Council on Education (ACE) and Carnegie Corporation of New York. Each fall semester students travel the globe during special themed semesters that focus on a particular region or country of the world.
He also guided the development of the University's online distance learning program that offers complete bachelor's degrees over the Internet and reaches students around the globe, including young people in China and U.S. soldiers serving in the Middle East and Afghanistan.
Dr. Terri Agee named acting president
The Board of Governors of Missouri Southern has named Dr. Terri Agee as acting president while they begin a national search for the university's fourth president.
Agee has served as vice president for business affairs for six years and as director of human resources for nine. Prior to coming to Missouri Southern, she worked as a labor and employment law specialist at Leggett & Platt, Inc. in Carthage.
Born and reared in Kansas City, Agee graduated with honors in 1981 from William Jewell College in Liberty. She earned Bachelor of Arts degrees in business administration and in public relations. In 1988, she received her Juris Doctorate degree from the University of Utah College of Law in Salt Lake City.
Dwight Douglas, chairman of the Missouri Southern Board of Governors, has said Missouri Southern hopes to have a new president in place by the fall 2008 semester.