Former Southern history grad receives award
August 28, 2007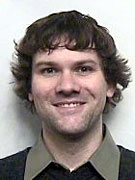 Missouri Southern State University graduate Dr. Jarod Roll, pictured, originally from Mt. Vernon, MO, has won the 2006 Best Ph.D. Dissertation Prize from the International Association of Labor History Institutions. In recognition of his award, Roll will receive a cash award of 750 GBP, or a little more than $1500 (USD) by today's rate of exchange.
Now teaching at the University of Sussex in England, Roll's dissertation is entitled, "The Road to the Promised Land: Rural Rebellion in the New Cotton South, 1890-1945." It explores how African American and white farmers created a grassroots radicalism to defend agrarian traditions against the rise of capital-intensive agriculture in the lowlands of southeast Missouri.
Roll's specialty is the United States after the Civil War. His research and writing focuses on the intersection of race, work, and protest in the political economy of rural America. Parts of this research have already appeared in the Journal of Southern History, Labor History, and Radical History Review.
In 2006 Roll received his Ph.D. in history from Northwestern University in Evanston, IL. He received his Master's degree in history from Northwestern in 2001 after graduating from Southern in 2000 as a history major. While he was an undergraduate at Southern he published one of his first articles in the Missouri Historical Review.
"We're really proud of him," said Dr. Virginia Laas of the Missouri Southern social science department. "We're sure this will not be the last award he will be getting."