Actor and former Joplinite, Lonnie Chapman dies
November 01, 2007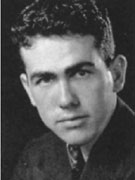 Lonny Chapman, pictured remember-when, who went from Joplin to become a stage and screen actor and North Hollywood repertory theatre founder and artistic director, has died. He was 87.
The Los Angeles Times reports that Chapman, whose television and movie career spanned more than 50 years, died October 12 of heart disease at Sherman Village Healthcare Center in North Hollywood, according to Janet Wood, a founding member of the Lonny Chapman Group Repertory Theatre.
Born in Tulsa and raised in Joplin, Chapman was a graduate of Joplin Junior College, the predecessor to Missouri Southern State University. He was named an "Outstanding Alumnus" in 2005.
After serving in combat during World War II, Chapman returned home with a determination to become an actor. After graduating from the University of Oklahoma, Chapman hitchhiked to New York City in 1947 with his best friend from college, actor Dennis Weaver.
By 1950, Chapman had originated the role of Turk in the Broadway production of William Inge's first play, Come Back, Little Sheba. Weaver was his understudy.
Chapman's screen roles included parts in such movies as The Birds, East of Eden, The Reivers, Reindeer Games, and Nightwatch. On television he appeared in a wide variety of series including Gunsmoke, Bonanza, and McCloud, in which Weaver also starred.
Chapman is survived by his wife of 65 years, Erma Dean, and son Wyley Dean Chapman.
According to the Times, a memorial service will be held at noon on December 2 at the Lonny Chapman Group Repertory Theatre, 10900 Burbank Blvd., North Hollywood.
To read a local interview with Chapman from 2005, visit here.