Blunt adds Love to MSSU Board
October 19, 2008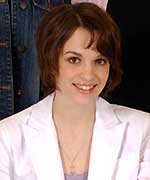 JOPLIN - Missouri Gov. Matt Blunt has appointed Ivy Love, pictured, senior French and Spanish major from Greenfield, as the new student representative to the Board of Governors at Missouri Southern State University.
Love is a recipient of Missouri Bright Flight and MSSU Evans scholarships. She was admitted to the Missouri Southern honors program in 2006 and repeatedly has been named to the dean's list.
She served as president of the Russian club in 2007-08 and vice president in 2006-07, secretary to the MSSU student senate in 2007-08, chair of the student senate community outreach committee, and peer mentor in the MSSU honors program the same academic year.
Love is a member of the Phi Eta Sigma Honor Society, the Epsilon Mu Sigma Honor Society and Southern Ambassadors.
She will serve a term extending to December 31, 2009.