MSSU student to perform with Valdosta Symphony
February 03, 2009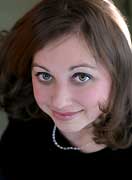 JOPLIN - Anna Buckley of Neosho, pictured at right, a senior music performance/German major at Missouri Southern State University recently was invited to perform a keyboard part for a series of three concerts with the Valdosta (GA) Symphony Orchestra. She will participate in the orchestra's performance of Honegger's King David Oratorio when it is presented later in February.
The Valdosta Symphony Orchestra serves both the cultural life of Valdosta and the regional academic mission of Valdosta State University. The orchestra's membership is a unique blend of resident artist-faculty, students studying professional music disciplines, talented community performers, and carefully selected professionals.
A recipient of the Mamie Holden Scholarship, a local fine arts scholarship, Buckley has been named to the Deans list repeatedly at MSSU and currently holds a 4.0 cumulative grade point average. She has augmented her studies of German by visiting music conservatories and traveling independently in Germany and Austria and other nearby European countries. She is a member of the Phi Eta Sigma, Alpha Chi and Omicron Delta Kappa honor societies.
Buckley is the daughter of Russell and Nancy Buckley of Neosho.