Williams elected state association president
July 15, 2009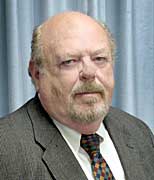 Dr. Jerry Williams of Joplin, pictured left, assistant vice president for lifelong learning at Missouri Southern State University, was elected president of the Missouri Distance Learning Association last week at the Tan-Tar-A Resort in Osage Beach, Mo. He served as treasurer and was an executive member of the National Educational Broadband Association for the past seven years.
Prior to being named an assistant vice president at Missouri Southern, Williams served as director of continuing education at Carl Albert State College in Sallisaw, OK. He also served as assistant administrator to the dean of education at Oklahoma State University for the school's Indonesian intern program.
Williams has worked as an earth science teacher in the Bowling Green (KY) Public Schools and served as a member of the Wood County, Ohio Planning Commission. He taught geography at Central Michigan University and worked in mapping for the United States Government. An independent farmer and former club squash player, he has been active in television management, engineering and programming for 35 years and has run a video consulting firm for 10 years.
He received a B.S. from the University of Nebraska, an M.A. from Bowling Green State University and an Ed.D in geography from Oklahoma State University.
The Missouri Distance Learning Association is the umbrella organization for all distance learning in the in Missouri and has the functions of sharing information, education and technology between member organizations. It meets annually in alternate locales in Missouri. Executive committees meet monthly via video conferencing.