Duffield is awarded nursing scholarship
December 18, 2009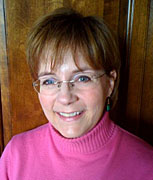 Lynne Duffield of Joplin, pictured left, a junior nursing major at Missouri Southern State University, will receive a $2,000 Missouri League of Nursing scholarship.
Dr. Mari Beth Linder, head of the nursing department at Southern, described an essay Duffield submitted as especially compelling.
"It dealt with her husband's cancer and his eventual death which are Lynne's reasons for pursuing a career in nursing, Linder said. Duffield previously had earned a bachelor's degree in political science from Southern Methodist University and a master's degree in journalism from the University of Oklahoma.
"I watched the nurses in their interaction with me and my husband," Duffield said. "I found their compassion to be compelling. I wanted to do that. I wanted to impact the life of someone in a less than positive situation in a positive way."
On April 15, 2010 Duffield and Linder will travel to Tan-Tar-A Resort in Osage Beach, Mo. to accept the award. In addition to the scholarship, Duffield will receive a one year membership to the Missouri League for Nursing.
Duffield's husband was Jay Duffield, M.D., a retired neurologist for Freeman Health Center who passed away in January 2008 after suffering from cancer for over 10 years. He was only 46. Both were formerly from Grove, OK.
The Missouri League for Nursing is a not-for-profit organization established in 1953 to support the delivery of quality health care by nurses and other health care providers through education, collaboration, and information. The last MSSU student to receive a Missouri League of Nursing scholarship in the statewide competition was Rachel Bemo in the 2005-2006 academic year.