Broadcaster Bill Grigsby is honored
April 14, 2010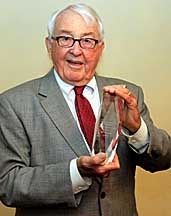 (Photo by Andrew Pavlovic)
JOPLIN - Longtime Kansas City Chiefs broadcaster Bill Grigsby of Parkville, MO, pictured, has added another honor to his long list of accomplishments. Yesterday (April 13, 2010) the Department of Communication at Missouri Southern State University presented Grigsby with the Regional Media Hall of Fame Award recognizing his impact on the field of broadcasting. Grigsby's distinguished career previously earned him honors in the Missouri Sports Hall of Fame and the National Association of Intercollegiate Athletics Hall of Fame.
"We believe that Bill Grigsby's outstanding career--as well as the fact that he started in Joplin--more than qualifies him for this type of recognition," said Judy Stiles, general manager of KGCS-TV broadcasting out of studios on the Southern campus.
In 1963 when the Kansas City Chiefs moved to Kansas City from Dallas, Grigsby did broadcast work for the first Super Bowl in 1967. In addition to play-by-play, his long career with the Chiefs included pre-game shows. Nationally known for his distinctive style as a broadcaster and color commentator, he completed a 46-year career with the Kansas City Chiefs in 2009.
After attending Joplin Junior College in the 1940s, Grigsby's sports reporting career started in Joplin at WMBH radio and The Joplin Globe. He worked in sports play-by-play broadcasting at WMBH, covering such rising baseball stars as Mickey Mantle who played for the Joplin Miners before joining the New York Yankees. Grigsby was a broadcaster for the University of Kansas radio network and the Kansas City Athletics baseball team. During his career, he covered nearly every major sports league, including professional baseball, basketball, hockey and football. He also broadcast college basketball and football games.
Grigsby is the author of Grigs! A Beauuutiful Life (Sports Publishing LLC, 2004). His pronunciation of "beautiful" has become his homespun trademark over the last couple of decades, whether selling the Kansas City Chiefs or one of the many businesses for which he has served as spokesperson.
The award presentation is funded from supporters including the Ruth I. Kolpin Foundation, the Eagle Picher corporation, The Missouri Broadcasters Association, and the Missouri Press Association. Past recipients have included newscasters Bob James and Bob Phillips; radio executive Ron Petersen; Joplin Globe sports editor Wendell Redden; broadcast executive Danny Thomas; and Dave Berry, vice president of Community Publishers.