Carr of Neosho is named MSSU outstanding grad
April 28, 2010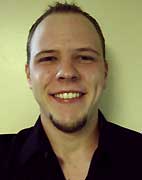 JOPLIN -John Robertson Carr of Neosho, pictured, has been named "outstanding graduate" by the Missouri Southern State University Alumni Association. The award will be formally announced at the Honors Convocation scheduled for 11 a.m. on Thursday, May 6, 2010, in the Taylor Performing Arts Center on the Joplin campus.
Carr, who will graduate with a Bachelor of Science in mathematics and a minor in chemistry, applied for the program and, according to Lee Elliff Pound, director of alumni affairs, was selected on the basis of superior involvement and leadership on campus and the community, high academic achievement and his respect for fellow students and faculty.
He served on the Missouri Southern Student Senate, including a year as president in 2006-07, the same year that he was a freshman orientation leader for honors program students. He also was president of Kappa Mu Epsilon, the mathematics honor society. His other activities included participation in Alpha Chi, the Campus Activities Board, Chemistry Club, Model United Nations, Omicron Delta Kappa, Phi Eta Sigma and the Student Senate.
In 2007, Carr won a McCaleb Peace Initiative Grant allowing him to travel to the southern African nation of Botswana to help conduct a study of HIV/AIDS policies of the government. While there, he held interviews with health professionals, educators and the general public. He says Botswana is one the nations in the world most severely affected by the AIDS pandemic and one that has responded aggressively to the problem. He found that the Botswana nationwide Prevention of Mother-to-Child Transmission program reduced HIV transmission from infected mothers to their children from about 40% to just 4%.
In 2009, he was awarded a Rotary Ambassadorial scholarship that allowed him to visit the University of the South Pacific (USP) in Suva, Fiji Islands and work with the Rotary Pacific Water for Life Foundation whose goal is to build wells or water systems in rural village areas in need of clean running water.
Carr, the son of Chuck and Carol Carr of Neosho, was a 2005 graduate of Neosho High School. He was awarded the Evans Trust Honors Scholarship to attend Missouri Southern for four years. Attending MSSU is a family tradition. Both his parents are graduates.
Carr says he is pleased with his decision.
"I definitely made a good choice," he states. "...I was impressed by the honors program and its coordinators and the chemistry and math departments."
What is next for John Carr? His ultimate goal is to become a physician. Following graduation, he says he plans to apply to medical school, hoping to begin his studies in the fall of 2011.
In keeping with this goal Carr currently works as a patient care associate at St. John's Regional Medical Center in Joplin, where he assists in the care of patients with neurological illnesses.