Pearson Prize awarded to Joplin woman
August 31, 2010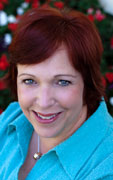 JOPLIN - Brenda K. Barger-Saunders of Joplin, pictured, is one of the recipients of The Pearson Prize For Higher Education. A respiratory therapy major at Missouri Southern State University, she is one of only 70 students selected from over 10,000 applicants for the award. As a Pearson Prize Community Fellow, she receives an initial $5,000 grant distributed through Missouri Southern"s financial office and an additional grant of $5,000 next January if all contingencies and requirements of her program are met.
"This is a major award," said Dr. Tia Strait, dean of the school of technology. "Brenda is one of only a small number of people across the nation named as Pearson Prize Community Fellow. We feel this reflects very positively on her work as a student and the quality of education offered at Missouri Southern State University."
The Pearson Awards Committee recognizes that most college awards programs and scholarships focus on recent high school graduates. However, many of the most dynamic students don't discover their direction until after their freshman year in a college or university. In a world of accelerating college expenses, a portion of these students may be the least likely to get additional support -- despite their dedication to service and to the university community.
"The Pearson Prize is a true blessing for me and my family," Barger-Saunders said. "I am very honored to be chosen for this honor."
Barger-Saunders, a non-traditional student, graduated with a bachelor's degree in psychology from the University of Arkansas. For the next 24 years she worked in pharmaceutical sales. In January 2009 she was laid off and When seeking employment, she found the only jobs open in her current field were entry level.
"I decided to start over," she explained. "I wanted a job in which I could truly make a difference and help people live long and healthy lives."
Barger-Saunders has played an active role in the Peers Against Second Hand Smoke (PASS) at MSSU. PASS is part of Campus-Community Alliances for Smoke-Free Environments which has locations in several universities in Missouri. She also is a member of the Smoke-Free Joplin Committee and the Clean Air Project.
The Pearson Prize supports students who have completed at least one year of college, demonstrated leadership in community service and have attended a two-or four-year school. By addressing the needs of emerging leaders at this point in a college career, the Pearson Prize for Higher Education fills a gap in the student investment scheme of other non-profits, state organizations, and philanthropic organizations.
The Pearson Foundation is the nonprofit arm of Pearson, an international media organization which employees over 37,000 people in more than 60 countries.
Barger-Saunders has two children. One son is a freshman at Missouri Southern, making education something of a "family affair." Another son is a student at Crowder College in Neosho.