Harlem Globetrotters' tour stops include MSSU
November 17, 2010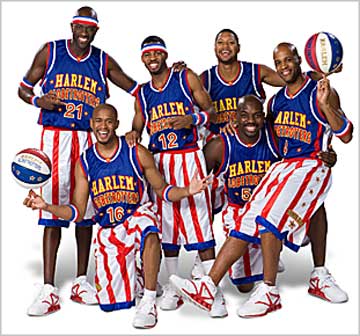 JOPLIN - The legendary Harlem Globetrotters, celebrating their 85th consecutive season, will make a stop at Missouri Southern State University's Leggett & Platt Athletics Center as part of their 2011 "4 Times the Fun World Tour." The event will take place on Monday, Feb. 7, 2011 at 7 p.m.
The Harlem Globetrotters will bring basketball's first-ever 4-point shot to Joplin after its debut on December 5, 2010, when they take on the Washington Generals (6:30 p.m. CST, ESPN2).
"The Globetrotters have been at the forefront of basketball's evolution throughout the sport's history," said Globetrotters CEO Kurt Schneider. "From the alley-oop to the slam dunk to the behind-the-back pass, the Globetrotters have long brought innovations to basketball that are now staples of the game, and we're confident the 4-point shot will change the game of basketball going forward."
The North American leg of the tour will tip-off on December 26, 2010, and run until mid April. The team will play over 270 games in more than 220 cities in 45 states and six Canadian provinces.
"Our 85th season promises to be a landmark year, with never before seen innovations in the game," said Michael Kenney, the Globetrotters' senior vice president, live event marketing.
Tickets, starting at $17 each, will go on sale at 10 a.m. on November 22, 2010, at the Missouri Southern box office, online here or by phone at (417) 625-9366.
Megan Trapp of the Harem Globetrotters contributed to this article.