Groesbeck is named dean of business at MSSU
January 31, 2012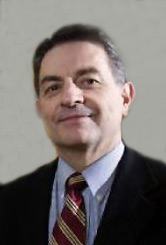 Dr. John Groesbeck, pictured, has been named Dean of the Robert W. Plaster School of Business Administration at Missouri Southern State University-Joplin, according to an announcement made today by Dr. AJ Anglin, vice president for academic affairs. Groesbeck succeeds Dr. Beverly Block who served as interim dean since July 2010 following the resignation of Dr. Brad Kleindl who held the position from 2003-10.
"Dr. Groesbeck's work with accreditation commissions and businesses, his global connections and his outstanding academic and management skills make him a perfect fit with Missouri Southern State University's mission and strategic goals," Anglin said. "We welcome him to our region and to the Missouri Southern State University campus."
Groesbeck most recently was dean of the Bill and Vieve Gore School of Business and professor of economics at Westminster College in Salt Lake City, Utah. In that position he was responsible for the management of all instructional and operational aspects of the school at the MBA and undergraduate level. At Westminster he provided oversight for the Center for China-America Business Studies and the Institute for New Enterprise, as well as the Center for Financial Analysis. His budget was in excess of $7 million per year.
While supporting Westminster in its decennial accreditation review by the Northwest Commission, Groesbeck facilitated the development of a new strategic plan, created a new master's of accountancy and created dual degree programs with Donghua and Nankai universities in China. He also established new student exchange programs with universities in Brazil, India and the Czech Republic and aggressively pursued fundraising activities within the college's advancement office.
Groesbeck put into practice a new hybrid, mentored learning, project-based degree completion program in business at Westminster for working adults. He established an improved internal performance and instruction load tracking database system and worked to increase external awareness of business programs through direct company visits along with a Business Ambassador student group that he created.
Groesbeck's background also includes serving as the dean of the college of business and professor of economics and finance at Eastern New Mexico University (ENMU) in Portales. In that position he managed all instructional and operational facets, with control over all bachelor's and MBA programs.
At ENMU, an Hispanic serving institution, Groesbeck led the process of decennial accreditation review. He re-structured departments into more efficient units and increased outreach to the business community through the creation of the Eastern Business Alliance, eNewsletters and greater involvement with local boards. He also improved classroom and distance education capacities, facilitated the development of improved assessment and tracking programs, worked to increase the research productivity of the faculty and expanded fundraising for scholarships for business students through improved alumni networking.
Prior to ENMU, Groesbeck was associate dean of the college of business and technology, head of the school of business and director of graduate business programs including of the Center for Economic Education, was professor of economics and was founding editor of the Mountain Plains Journal of Business and Economics at Southern Utah University, Cedar City, Utah.
Groesbeck received his B.A. in political science (international relations) at Boise State University. He received an M.S.S. in economics/management at Utah State University and his Ph.D. in economics with an outside field in management from Utah State University.
He also has worked as a public utility financial analyst for the Minnesota Department of Public of Service, held the position of downtown redevelopment manager in Deming, New Mexico and owned a copy-graphic business in Pocatello, Idaho.