2012 Governor's Award goes to Dr. Scott
March 18, 2012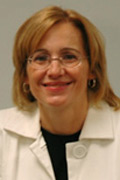 JOPLIN - Dr. Trina J. Scott, pictured, professor of criminal justice at Missouri Southern State University, is the recipient of the 2012 Governor's Award for Excellence in Education. The award will be presented to Scott April 4, 2012, at the University of Missouri-Columbia.
Scott was recommended for the award by the vice-president for academic affairs together with the president and deans. The award is based on effective teaching, innovative course design and delivery, effective advising, service to the University community, commitment to high standards of excellence and success in nurturing student achievement.
Scott teaches criminal justice, criminal procedure, ethics in criminal justice and employment law classes at MSSU. She has taught at Missouri Southern since 1994.
Scott received her Juris Doctorate from the University of Missouri-Columbia after completing a bachelor's degree in constitutional history from Indiana University. Her professional background as a juvenile court legal advisor, assistant prosecutor and law clerk for the Missouri attorney general brings a relevancy to the courses she teaches.
She has served as the sponsor for the Alpha Phi Sigma Criminal Justice Honor Society, Pre-Law Club and the Criminal Justice Student Association. She has taken a leading role in helping students successfully navigate the law school admission process.
"Missouri Southern takes great pride in Dr. Scott receiving this award," said Dr. AJ Anglin, vice president for academic affairs. "The entire faculty and staff are truly pleased that she is receiving this symbol of the dedication she shows to her profession and her students," he stated.