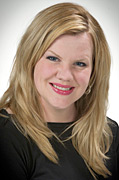 JOPLIN - Cassie Mathes, pictured, has been named as the new director of university relations and marketing at Missouri Southern State University. She begins her new duties on April 30, 2012, replacing Rod Surber who has accepted a new role as the university director of web content.
"Cassie is a great addition to our team," said JoAnn Graffam, vice president for development/executive director of the Missouri Southern Foundation. "She brings both experience in the field and knowledge of the university and the community."
A graduate of Missouri Southern where she earned a bachelor's degree in communications, Mathes has worked at Pittsburg State University since 2006. She earned a master's degree in communications from Missouri State University and currently serves as manager of web content and social media. She also has served as assistant director of media relations and communications specialist.
Prior to her time at PSU, she held positions as an assignment editor at KODE-TV, a technical writer at Pitsco and a reporter for the Joplin Globe.
"I had a wonderful experience as a student at MSSU," said Mathes, "and to be able to return to the school in this capacity is special for me. There are so many talented faculty and staff members at Missouri Southern who are helping students achieve their dreams. I'm looking forward to being part of the team and helping tell the university's story."