Chuck Surface loses battle with cancer
September 27, 2012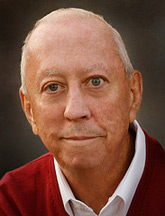 JOPLIN – The Missouri Southern State University community reacted with sadness today to news of the death of Chuck Surface, pictured, a presiding member of the MSSU Board of Governors and veteran area businessman, legislator and public servant.
Surface, 68, lost a long battle with cancer on Wednesday, Sept. 26, 2012.
"We are truly saddened to hear of Chuck's death," said Missouri Southern President Dr. Bruce W. Speck. "The entire campus extends its condolences to his family. Working with him and for him has been a great honor. We all will miss him immensely."
Dr. Sherry Buchanan, Chairwoman of the Missouri Southern Board of Governors, joined in expressing her grief in learning of the death. "Missouri Southern was dear to Mr. Surface," Buchanan said. "We know that one of the things he wanted to do in his life was serve on the Missouri Southern Board of Governors. We are glad he was able to accomplish that goal."
Surface, who was named MSSU's Outstanding Alumni in 1987, received a Bachelor of Science in marketing and management from Missouri Southern in 1969. He was appointed to the Board of Governors on October 26, 2011, with a term due to expire in 2016.
Buchanan recalled that Surface was eager to show his Lion Pride. "When the legislation was enacted for personalized license plates in Missouri, Chuck quickly secured one of the very first numbers that mentioned MSSU," she stated. "He was very passionate for the university."
Surface served for 18 years in the Missouri General Assembly representing the 128th and 129th districts. He was Presiding Commissioner of Jasper County from 2003 to 2006 and served on the Joplin City Council. In 2007 he was appointed economic development director for the city of Webb City and also was an insurance agent.
A veteran of the U.S. Air Force, Surface was active in numerous local civic and non-profit organizations.
Surface leaves his wife Sherry and three children--Jason, Christi and Kim.
Visitation will be held from 3–5 p.m. at Christ Church of Oronogo, 2215 Kafir Rd., on Sunday, Sept. 30. Funeral services are scheduled for 10 a.m. on Monday. Arrangements are under the direction of Hedge-Lewis Funeral Home in Webb City.
Contributions may be made to Joplin Elks Lodge Christmas Basket Program or the Joplin Humane Society.