MSSU homecoming royalty are chosen for 2012
October 06, 2012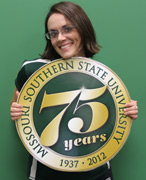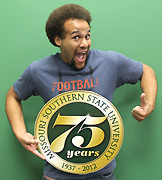 Missouri State University students, Ruth Stamper of Carl Junction, at left, and Trenten Henderson of Mt. Vernon, at right, are the school's 2012 homecoming royalty.
Coronation of homecoming royalty at Missouri Southern State University was held at an all-university picnic yesterday (October 5, 2012) on campus in Joplin. Ruth Stamper of Carl Junction and Trenten Henderson of Mount Vernon received the most votes during an election held earlier in the week and were crowned by MSSU President Dr. Bruce W. Speck and his wife Carmen.
Henderson, a senior pursuing a double major in theatre and English, was sponsored by Sigma Tau Delta. His activities include the Alpha Chi Honor Society, Southern Players and Kappa Delta Pi. After graduation he hopes to pursue an acting career as well as teach. He is the son of Terry and Tammie Henderson of Mt. Vernon.
Stamper, a junior from Carl Junction, is also representing Sigma Tau Delta. She is the winner of the Charlotte and Randy Hopper Award for most outstanding non-traditional English major at Missouri Southern. On campus during 2011-12, she took part in the Recreational Employee Council. After graduation she plans to attend graduate school to obtain an M.A. or M.A.T. She is the daughter of Harvey and Virginia Bendure.
The other queen candidates included Kelsey Jensen, senior international studies major from Urbandale, Iowa; Katrina Loar, junior management major from Carl Junction; Addy Philips, junior music education major from Clever and Kaylee Washburn, senior psychology major from Carthage. The king candidates included Ahmed S. Alanazi, freshman criminal justice major from Riyadh, Saudi Arabia; John Brandon Elam, senior international business major from Clever; Glenn Underwood, senior health science major from Joplin and Zachary Tyler Williams, freshman accounting major from Carthage.
For a photo of royalty from 2011 go here.