Long-time MSSU prof to be honored
March 15, 2013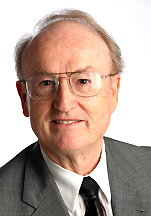 Longtime Missouri Southern State University professor Terry Marion, pictured, is the recipient of the 2013 Governor's Award for Excellence in Education. He will receive the award on April 3, 2013 at the University of Missouri-Columbia. This year marks Marion's 46th year of teaching.
A professor of business management in his 36th year of teaching at Southern, Marion was recommended for the award by the vice-president for academic affairs together with the president and deans. The award is based on effective teaching, innovative course design and delivery, effective advising, service to the University community, commitment to high standards of excellence and success in nurturing student achievement. He served on the MSSU Promotion and Personnel Committees and was a Students In Free Enterprise (SIFE) faculty advisor from 1978-94, winning several national awards. Marion received the first MSSU Advisor of the Year Award, Outstanding Teacher Award and the SOBA Advisor of the Year.
"Terry Marion is considered as being 'student focused' by his colleagues," said Dr. Pat Lipira, vice president for academic affairs. "His care for the students and his accommodating spirit were the primary reasons for his recent 'Outstanding Advisor Award'. He is an outstanding faculty member, not only in the Plaster School of Business, but on the entire campus."
A doctoral student at the University of Arkansas, Marion has additional graduate hours from Oxford, the University of Missouri, Purdue and Kansas State. He received his education specialist degree and master's degree from Pittsburg State University and his bachelor's degree from Missouri State University. He has worked in the retail, construction and real estate industries and served as director of human resources at Eagle Pitcher Technologies in Joplin.
Marion is a member of the Tri State Human Resources, a chapter of Society of Human Resource Management (SHRM) and is the sponsor for MSSU's student SHRM club. He also works through the Small Business Technology and Development Center (SBTDC) to provide organizational seminars and training.