Ex-Crowder president assumes interim role at MSSU
June 21, 2013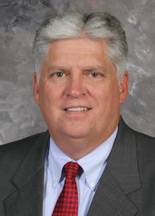 Joplin - The Board of Governors at Missouri Southern State University in an executive session on June 20, 2013, has announced that Dr. Alan D. Marble, pictured, will serve as interim president of the university. He will begin his new responsibilities on July 1, 2013.
"We are pleased Dr. Marble has accepted this important position and we are confident his notable experience in higher education leadership will benefit Missouri Southern," said Dr. Sherry Buchanan, who led her final meeting as chair of the Board of Governors today. "The Board of Governors is encouraged by his vision and we know he will serve the University's students, faculty, staff, and constituents well during this time of transition."
The Board of Governors now will begin planning for the search for a permanent president, which, they say, will include campus and community involvement.
Marble recently retired from Crowder College after 27 years of service. He had been the school's president since 2006. He also served as Crowder's business manager and dean of development.
Prior to his career in higher education, Marble owned and operated a testing and placement service that worked with many leading insurance companies nationwide to assist injured claimants in their efforts to become retrained and employable. He sold the company in 1986 to begin his career in higher education.
Marble is an alumnus of Missouri Southern, earning a bachelor's degree in 1979. He earned a master's degree from Pittsburg State University in 1986, and his doctorate in higher education administration with an emphasis in finance from the University of Nebraska in 2006.
In addition to numerous awards for contributing to private industry, he has been recognized for his efforts in higher education. He is a member of the board of directors for the Missouri Energy Initiative, serves on the Missouri Higher Education Performance Funding Task Force, was appointed by Governor Nixon to the Missouri Tax Credit Reform Commission and is a Paul Harris Fellow with Rotary International.
"It is an honor for me to have been asked by the Board of Governors to serve my alma mater, and I intend to do everything I can to provide strength, guidance and direction to this great University," said Marble said. "I look forward to this opportunity to build bridges not only on campus, but also between the University and the community."
Marble had previously accepted an offer to become interim assistant to the president. That position has been eliminated.