MSSU assistant professor has poem published
July 10, 2013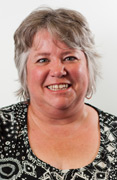 Olive Sullivan, pictured, of Pittsburg, Kansas, an assistant professor of communications at Missouri Southern State University-Joplin, has a poem included in one of the 15 books chosen for the Kansas Notable Book List. The book edited by Caryn Mirriam-Goldberg is titled To the Stars Through Difficulties: A Kansas Renga in 150 Voices.
The Kansas Notable Books List is an annual recognition of 15 outstanding titles from the previous year by Kansas authors or about Kansas compiled by a committee of the Kansas Center for the Book (KCFB) affiliates, fellows and authors of previous notable books and with final approval of the state librarian. The only honor for Kansas books by Kansans, the list calls attention to a laudable contemporary writing community in the Sunflower State.
In this book of poetry based on the Japanese haiku form, each poet begins with the seed of an idea from the poem before, writes, and leads the way for the next poet, resulting in a poetic conversation. The words of each poet, gathered from the center and edges of Kansas, show the reader not just the parts, but an expansive skyscape of language.
Sullivan is the adviser for the MSSU student newspaper The Chart.