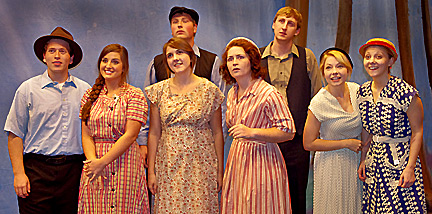 Local singers in the production of Pagliacciassemble o stage at Taylor Auditorium on the Missouri Southern State University campus in Joplin. They are: (L-R, back row) Gordon Blodgett and Chris Tanksley; and (L-R) front row: Forrest Bunter, Brooke Hentry, Sydney Shannon, Jessie Pendergraft, Devri Brock and Elaina Bottles.
Joplin – Southern Theatre, Heartland Opera Theatre, and the Institute of International Studies join to present Ruggiero Leoncavallo's opera of jealousy and revenge, Pagliacci. The opera, sung in Italian with English titles, will be presented at 7:30 p.m. on Friday, Oct. 11, and at 2:30 p.m. on Sunday, Oct. 13, in Taylor Auditorium on the campus of Missouri Southern State University in Joplin. There is no admission charge.
In the opera, a troupe of itinerant players comes to town, but the anticipated pleasure of their performance turns to horror as their onstage and offstage lives collide with terrible consequences.
The production is directed by Jim Lile, chairman of the Missouri Southern Theatre Department and conducted by Heartland Opera Theatre's artistic director, Nicholas Gilmore.
The cast includes Brian Cheney (tenor) as Canio, Ashley Yvonne Wheat (soprano) as Nedda, Zeffin Quinn Hollis (baritone) as Tonio, Patrick Howle (tenor) as Silvio, and a chorus of talented local singers.
For accommodations related to a disability, contact Terri Spencer at (417) 625-9393 at least 72 hours before the performance.
For theatre production information, contact the MSSU Theatre Department at (417) 625-­9393.