Claussen receives professor emeritus distinction
October 24, 2013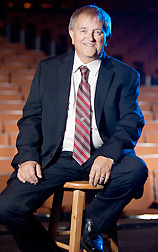 Retired faculty member Sam Claussen, pictured, was awarded the title of professor emeritus, according to an announcement by the Missouri Southern State University Board of Governors. The honorary term is awarded only to those who have spent at least 15 years as full time faculty members at Missouri Southern, have played a singularly important role in educating students and have received the board's approval.
Hired in 1977, Claussen spent 33 years at Southern, eventually retiring in 2010 as technical director and professor of theatre. He became known as someone first to start work in the morning and last to leave at night.
"Retirement lets me do what I want to do," he said. "[But] what I want to do is be at work instead of sitting in a recliner. I can't cold-turkey that." Currently, he is teaching theatre appreciation and a traditional class in university experience.
A former resident of Carl Junction, Claussen obtained a Bachelor of Science in mathematics from Missouri Southern. After serving in the U.S. Navy for four years during the Vietnam War era, he obtained a B.A. in Theatre from Missouri Southern and a Master of Fine Arts in theatre from the University of Virginia in Charlottesville. He continued to serve in the Navy Reserve as a chief petty officer until his retirement.
Claussen is president of the local chapter of the Missouri Archeology Society. He and fellow MSSU faculty member Dr. Conrad Gubera of the social science department have made numerous trips to the land of the Maya (Guatemala and Mexico).
Claussen has taught lighting design, scenery design and stage management and has demonstrated his expertise when visiting entertainers such as the Ozark Mountain Daredevils, Cheap Trick, George Carlin, Up with People, and others performed. More recently, he has worked with the Christian Rock groups Petra and D.C.Talk. Throughout the course of his career, Claussen acted in and directed various plays, particularly concentrating on children's theatre productions. He also has twice taught in London as a part of MSSU's Oxford program.
"I've really enjoyed the children's shows," Claussen said. "The audience hangs onto every word. You get to see how you have affected students in very specific ways." With amusement he admitted, "Later, you get the same students who were here when they were five or six come through our program."
In believing that live theater will always retain its validity, Claussen said, "There is a whole added dimension to performing live. It's part of a contract between audience and performer. When you laugh, the performer reacts. It's the same for an actor projecting an evil part. It's not the same as flat screen or 3-D. Here, we have real 3-D!"
Some of Claussen's favorite recollections include working on Godspell with former theatre department director Jay Fields and as director with Brenda Jackson of Waiting for Godot. His greatest challenge, he said, came when he had to prepare the stage for the Los Angeles Ballet Company immediately after the conclusion of a Southern performance.
"We had to strike the show, take out the pit cover for the orchestra and put the whole thing together," he recalled. "It was work, but it didn't feel like work. That's how it is when you love what you're doing."