Missouri Southern benefactor dies
November 13, 2013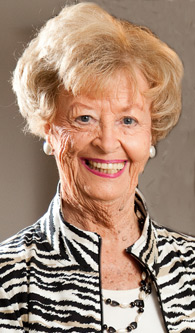 Wanda Sue Billingsly, pictured, former director of the Missouri Southern Foundation, died Tuesday, Nov. 12, 2013, in Joplin.
Mrs. Billingsly, 89, was the widow of the late Dr. Leon Billingsly, who served as president of Joplin Junior College (which later became Missouri Southern State College) from 1964 until his death in 1978.
"We mourn this fine lady who offered so much to Missouri Southern throughout the years," said Dr. Alan Marble, interim president of Missouri Southern State University. "She will be missed."
Mrs. Billingsly became director of the Missouri Southern Foundation in 1979. With both bachelor's and master's degrees, she had taught in public schools for several years. Under her tenure, the foundation became a more active fundraising organization with the development of the annual phonathon and Lantern Society.
Visitation will be held from 10 to 11:30 a.m. Saturday, Nov. 16, at Mason-Woodard Mortuary, 3701 E. Seventh St., with a graveside service to follow at Mount Hope Cemetery in Webb City.
She is survived by one daughter, Connie.