MSSU plans MLK Day of Service
December 14, 2013
"Life's most persistent and urgent question is: What are you doing for others?"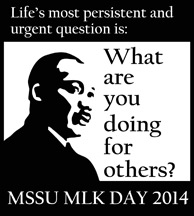 The quote from Dr. Martin Luther King Jr. is at the heart of the annual MLK Day of Service – a call for people to work together to solve problems, it and serves as the theme for the annual celebration at Missouri Southern State University-Joplin during the week of January 20, 2014.
MLK Breakfast
The celebration on campus will begin with the annual MLK Breakfast at 8 a.m. Monday, Jan. 20, in the Connor Ballroom at the Billingsly Student Center.
"In the past, our guests (brought in for the event) have spoken at the breakfast," said Faustina Abrahams, MSSU first year advising coordinator and a member of the university's Diversity Committee, which sponsors the event. "This year, we wanted to focus on a local speaker who has a volunteer background."
Jerrod Hogan, founder of Rebuild Joplin formed after the May 22, 2011 tornado – will be the speaker.
Those attending the breakfast will have the opportunity to contribute to a community art project. Guests will trace their hands on construction paper, which will then be added to a collage created by Josie Mai, assistant professor of art, and students. At the conclusion of the breakfast, "Healing Hands Community Collage" will be unveiled.
Admission to the MLK Breakfast is $5 per person. Tickets may be purchased at the MSSU ticket office or online here.
Sponsorship opportunities for tables at the breakfast are available. There will be six tickets per table, with a table tent on each sponsored table. Company names will be listed in the printed program and mentioned during the event. Call (417) 625-9521 for more information.
Volunteer fair
A volunteer fair is planned for 10:30 a.m. to 1:30 p.m. on Tuesday, Jan. 21. Area volunteer and nonprofit organizations will set up tables in Billingsly Student Center with information about getting involved. Students and the community are invited to sign up and give their time to an organization of their choice.
Performances
On Wednesday, Jan. 22, the Campus Activities Board will present two performances by MLK authority and impersonator Greenfair "Brother" Moses III. "Let Freedom Ring" will be presented at 1 p.m. in Corley Auditorium. Brother Moses will deliver one of the most powerful speeches of all time. It was a speech that King labored over as he wondered whether or not to use the phrase, "I have a dream."
Brother Moses will also present King's sermon known as "A Knock at Midnight" at 7 p.m. in Corley Auditorium of Webster Hall.
"We'd really like to see area churches attend the Wednesday evening program," said Abrahams. "The MSSU Chamber Singers are going to open it, and we want it to feel like what it could have been like to be there for (the actual sermon)."
Both programs are free and open to the public.