MSSU instructor contributes to book about beer
December 18, 2013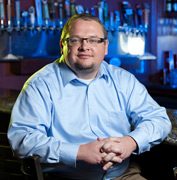 Joplin – People tend to be particular about the beer that they drink, says Dr. Charles Yeager, pictured, an assistant professor of geography at Missouri Southern State University who admits to being fascinated for a long time about the geographic nature of beers.
"I remember my grandpa … Hamms, Old Milwaukee … those were his beers. It was like a football team. You did not say something about Old Milwaukee being 'Old Milyuckee,'" he says. "The beer you drink is part of who you are and your culture group."
This fascination originated when Yeager was a grad student at Indiana State University and he had an opportunity to hang out with his adviser who as with himself appreciated lifting a few tasty brews. During their talks they considered the idea of collaborating on a paper about the relationship between beer and geography, but it was a project that remained on the back burner.
Then they met a friend at a conference who informed them that he had just gotten the go ahead to publish a book about the geography of beer. It was a coincidence too good to pass up without selling the idea that they could write a chapter for the book.
Currently available as an e-book, The Geography of Beer: Regions, Environments and Societies is set to be released in hardcover in March. Yeager, along with Jay Gatrell from Indiana State University and David Nemeth from the University of Toledo, penned one of the chapters – "Sweetwater, Mountain Springs, and Great Lakes: A hydro-geography of beer brands" after doing research for one year which in part shows how breweries have morphed.
"It's a water-based production activity," Yeager explained. "We looked at how beer production was tied to water resources and how the effects of globalization changed that to get an idea of the importance of water as a natural resource in beer production today."
"Historically, the brewing region in the U.S. really mirrors the Rust Belt," he says. "We started looking at beers that had significant distribution in the 1950s and '60s. They all tended to be near plentiful sources of natural water … the Great Lakes, the Ohio or Mississippi rivers. At that point, it would have been unheard of for a brewery to use municipal water.
"As time went along, we saw globalization … large companies coming together. By the time we got to the '70s and '80s, the trend toward natural water being important had gone away. The most important thing for Bud Light is meeting production demand.
"One thing we see now, though, is that globalization consolidates things but opens up local spaces. That's why we've seen an explosion of really high-end craft beers. For those types of breweries, water quality is important and part of their marketing and iconography."
Given his past research into food systems, Yeager says studying geography as it relates to beer was a natural fit. Plus, as opposed to researching access to food, beer made for a fun topic.