Major blog recognizes former Chart reporter
February 17, 2014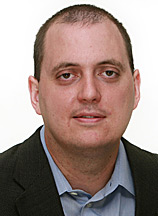 Exposure to the legislative process at a young age can either turn you off or really get its hooks into you, according to Aaron Deslatte, pictured. For him, it was the latter.
A former reporter for The Chart who now covers statewide politics and the Florida legislature for the Orlando Sentinel, Deslatte was recently named among the best state capitol reporters in America in a list compiled by GovBeat blog of The Washington Post.
While as a reporter for The Chart, Deslatte covered the 1998 legislative session in Jefferson City. The experience, he said, was his first chance to see how the legislative process works up close.
"The Missouri legislature is fairly unique compared to others that I've covered since then," he said. "There's a lot more direct access to individual members and you actually sit at the Senate floor. You're really embedded in the process."
It was a much different experience than the politics of Florida, a "mega state where a lot of the issues become national issues," he said.
Deslatte likens the legislature in Florida to a miniature version of Congress, where professional legislative staff members mix with analysts and lawyers, and the state budget clocks in at nearly $70 million.
"Florida is a very diverse state. You have Cuban and Puerto Rican influences, the Old South along the panhandle, Midwestern migrants along the Gulf Coast and from the Northeast along the eastern side," he said. "It's a big melting pot of a lot of different influences, so there are a lot of different needs that get brought up to the legislature."
Deslatte said he was humbled to learn that he had been named in GovBeat blog's list, especially given that it includes a number of other reporters whose work he admires. He thinks that covering politics in Florida is a challenge, but digging deep into the legislative process is something that he has enjoyed over the years.
"Policy is very important and affects everybody's lives in ways they don't always feel directly," he said. "It's interesting to see the rationalization and decision-making that goes into how a bill becomes enacted, and all of the trade-offs and backroom deal-making that goes on … it's a fascinating sort of stew that happens."
Dr. Chad Stebbins, who advised The Chart from 1984 to 1999, said it wasn't a surprise to see his former student honored.
"Aaron Deslatte is one of the best writers The Chart has ever produced," said Stebbins. "He made a serious commitment to becoming a professional journalist when he became our state capitol intern in the spring of 1998. He spent every week in Jefferson City interviewing elected officials and university presidents and then drove back to campus to put together a state news page."