New equestrian center opens in Springfield
July 10, 2010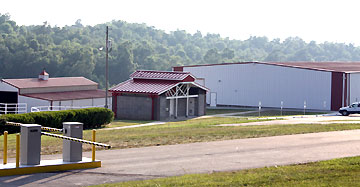 The new 53-acre Valley Water Mill Park Equestrian Center in Springfield officially is open after a dedication ceremony held on July 9, 2010 by the Springfield-Greene County Park Board. Located at 4007 N. Farm Road 171, the facility is the latest improvement to the 124-acre Valley Water Mill Park.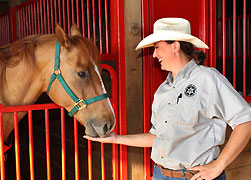 Corporal Jennifer Flood, a member of the Sheriff's Mounted Posse of Greene County, is shown with one of the horses housed at the new Valley Water Mill Park Equestrian Center in Springfield.
Amenities at the Valley Water Mill Park site include a lake, fishing piers, lake-and-stream side learning stations, a maintenance center, and a one-mile hiking trail. It also is the new home of the Sheriff's Mounted Posse of Greene County, a non-profit organization designed to promote good horsemanship and fellowship through clinics, charity events, fundraising, trail rides and other park events. The Posse also provides security at local events and will participate in local parades, rodeos and fairs.
"The Posse will support the community by providing search and rescue services and security patrol at events. However, their primary focus is teaching youth horsemanship and other skills that emphasize making positive choices," said Greene County Sheriff Jim Arnott. "I am very excited about this program and look forward to working with this group of volunteers as well as the Park Board."
Major features of the equestrian center are:
a 200- by 90-foot indoor arena with sand footing
170- by 115-foot fenced outdoor arena with all weather sand footing
eight-stall horse barn
It also offers a meeting room with a full kitchen that is available for birthday party packages and half-day rental. Facility hours are 9 a.m.-5 p.m., Tuesdays-Sundays.
The project was funded as part of the 2001 voter-approved 1/4-cent city-county parks sales tax. The total park renovations and development cost is $1.55 million. For more information phone (417) 833-3291.
Directions: from Glenstone Avenue and Interstate 44 travel north to Valley Water Mill Road, turn right. At Barnes Avenue (Farm Road 171) turn left. Travel approximately 3/4-mile to the equestrian center on the left.