Grad student benefits from MoDOT award
February 16, 2011
James Berglund, a graduate student at Missouri State University in Springfield, was presented a check for a $10,000 fellowship today (Feb. 16, 2011) by the Missouri Department of Transportation Director Kevin Keith.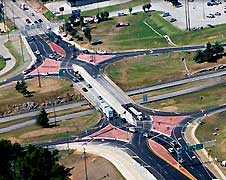 Shown is an aerial view of the diverging diamond interchange at I-44 and the Kansas Expressway (Route 13) in Springfield, MO.

The fellowship stems from an award MoDOT received in October from the American Association of State Highway and Transportation Officials, AAA and the U.S. Chamber of Commerce for the diverging diamond interchange at the intersection of Route 13 and Interstate 44 in Springfield. The award allows the winner to establish a $10,000 fellowship at a state university of the winner's choice.

"This innovative project--the first of its kind in the nation--has done more than just improve safety and traffic flow in Springfield," Keith said. "It's provided a model for other states to use to reduce congestion, save money and make their highways safer. Now it's allowing this motivated young man, James Berglund, to further his research and education."

Berglund is seeking a master's degree in geology at MSU. He plans to use the fellowship to fund his thesis research. Berglund says his goal is to be a professional geologist and work in the transportation field.

"I would like to thank MoDOT and the university for selecting me for this fellowship," Berglund said. "This financial assistance will help me focus on field research that will provide important insight into the stability of the bedrock around the next Springfield interchange MoDOT is planning to redesign."

"It is a terrific gift that MoDOT has provided in sponsoring a graduate fellowship for a Missouri State student," said Dr. Frank Einhellig, dean of the Graduate College at Missouri State. "This award recognizes the involvement of our graduate students in working on research problems pertinent to Springfield and the region....."

The diverging diamond interchange project received AASHTO's Francis B. Francois Award for Innovation, which recognizes a project that establishes, increases, or enhances value to the public. MoDOT opened this first interchange of its kind in the nation in June 2009 at I-44 and MO-13 and then in July 2010 at US 60 and National Avenue. The interchange, with signals at each end eliminates left-turn signal phasing and allows traffic to cross to opposite sides at the signals. Traffic is said to move faster, congestion is reduced (no more backed up left-turn traffic to block trough traffic), safety is increased (a major percentage of crashes were rear-enders and money is saved.