Internet junkie tackles life-changing birthday
February 27, 2012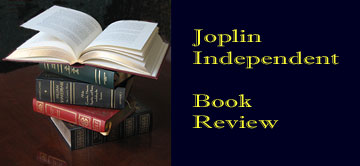 by Susan Branch
Fifty is a big and threatening birthday for many women, but Amanda Wilson, the main character in Mini Skirts and Laughter Lines finds it totally intimidating. She has more than the normal problems of aging to contend with. For one thing, there's her retired husband Phil, who has seemingly lost his reason for existence when he sold his thriving business. He's also worried that the world-wide financial crisis has eroded the secure retirement he'd planned. Then there's her drop-out son Tom, who drinks too much and works too little to suit his father. She's stuck in a small, dull English village where newcomers like her--those who moved in during the last 30 years--can expect cool treatment. Her only relative seems to be her distant, critical mother, whose life in England is bleak, but who comes alive when visiting her many friends in Cyprus. And then there's the English climate...
Phil both fears and hates technology, but Mandy loves the Internet. So what is a reticent Englishwoman to do with no friends to confide in? Just like Carol E. Wyer, the author of this book, she starts a blog. She's confident that Phil will be unable to read her thoughts on the Internet, and Tom will be too uninterested in her hopes and fears to look, so she can complain about the both of them, and tell her new on-line friends funny (or not-so-funny) stories about their daily lives. The initial year's worth of her blog entries and the replies by her readers make up the whole of this novel.
Then Facebook brings her news of her old boyfriend Todd, now a wealthy, handsome and single Australian, who says breaking up with her is the worst mistake he ever made. Of course, he doesn't know about her newly acquired wrinkles and her graying hair, and she makes sure that any pictures she sends him are blurry enough so that he won't find out. She writes him flirty e-mails and finds his interesting, active life of travel and sunshine especially appealing as the cold English winter sets in.
Her attempts to get Phil to do something--anything!--usually just provide more fodder for the blog, and their pre-Christmas vacation in a sunny resort turns into a nightmare. All of which makes the possibility of meeting Todd again much more attractive. And guess who's coming to visit England?
Several of the readers of her blog become regulars, whose entries reflect their own personalities. "SexyFitChick," for instance, an Australian herself, urges Mandy to take care of herself, get beauty treatments, have a fling, while the more conservative, and sensible, Vera cautions Mandy to think about what she does.
As Mandy's problems continue, she finally agrees to meet Todd--after all, despite their e-mail exchanges, it will be a harmless reunion of old friends--only to have her life upended by a sudden revelation. Her realization of what she really wants in life is followed by several more shocks, most of them positive.
If it's a little too easy for Mandy to find a happy ending, the reader will still enjoy her new, satisfactory life after all the angst she shared with her Internet friends and with readers of this light-hearted book.
---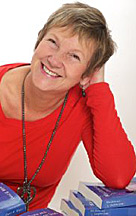 Carol E. Wyer, pictured, an ex-teacher and mad hatter, is known as the " Erma Bombeck of the UK" due to her humorous posts on the Internet. Her blog may be found here.

Title - Mini Skirts and Laughter Lines
Author: Carol E. Wyer
Publisher: YouWriteOn Publishing (June 26, 2011), 408 pp.
$15.37 (paperback) at amazon.com
ISBN-10: 1908481811 /ISBN-13: 978-1908481818
---